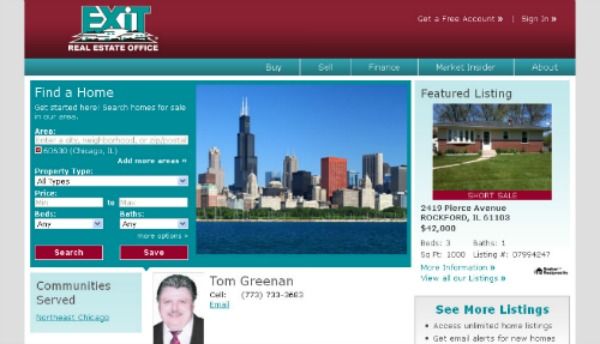 Click on image above to search for Homes/Condos

Sellers Common Mistakes
Mistake #1 -- Placing the Wrong Price on Your Property
Every seller obviously wants to get the most money for his or her product. Ironically, the best way to do this is NOT to list your product at an excessively high price! A high listing price will cause some prospective buyers to lose interest before even seeing your property. Also, it may lead other buyers to expect more than what you have to offer. As a result, overpriced properties tend to take an unusually long time to sell, and they end up being sold at a lower price.
Mistake #2 -- Mistaking Re-finance Appraisals for the Market Value
Unfortunately, a re-finance appraisal may have been stated at an untruthfully high price. Often, lenders estimate the value of your property to be higher than it actually is in order to encourage re-financing. The market value of your home could actually be lower. Your best bet is to ask your realtor for the most recent information regarding property sales in your community. This will give you an up-to-date and factually accurate estimate of your property value.
Mistake #3 -- Failing to "Showcase"
In spite of how frequently this mistake is addressed and how simple it is to avoid, its prevalence is still widespread. When attempting to sell your home to prospective buyers, do not forget to make your home look as pleasant as possible. Make necessary repairs. Clean. Make sure everything functions and looks presentable. A poorly kept home in need of repairs will surely lower the selling price of your property and will even turn away some buyers.
Mistake #4 - Trying to "Hard Sell" While Showing
Buying a house is always an emotional and difficult decision. As a result, you should try to allow prospective buyers to comfortably examine your property. Don't try haggling or forcefully selling. Instead, be friendly and hospitable. A good idea would be to point out any subtle amenities and be receptive to questions.
Mistake #5 - Trying to Sell to Lookers
A prospective buyer who shows interest because of a "for sale" sign he saw may not really be interested in your property. Often buyers who do not come through a realtor are a good 6-9 months away from buying, and they are more interested in seeing what is out there than in actually making a purchase. They may still have to sell their house, or may not be able to afford a house yet. They may still even be unsure as to whether or not they want to relocate.
Your realtor should be able to distinguish realistic potential buyers from mere lookers. Realtors should usually find out a prospective buyer's savings, credit rating, and purchasing power in general. If your realtor fails to find out this pertinent information, you should do some investigating and questioning on your own. This will help you avoid wasting valuable time marketing towards the wrong people. If you have to do this work yourself, consider finding a new realtor.
Mistake #6 -- Being Ignorant of Your Rights & Responsibilities
It is extremely important that you are well-informed of the details in your real estate contract. Real estate contracts are legally binding documents, and they can often be complex and confusing. Not being aware of the terms in your contract could cost you thousands for repairs and inspections. Know what your are responsible for before signing the contract. Can the property be sold "as is"? How will deed restrictions and local zoning laws affect your transaction? Not knowing the answers to these kind of questions could end up costing you a considerable amount of money.
Mistake #7 - Signing a Contract with No Escape
Hopefully you will have taken the time to choose the best realtor for you. But sometimes, as we all know, circumstances change. Perhaps you misjudged your realtor, or perhaps the realtor has other priorities on his or her mind. In any case, you should have the right to fire your agent. Also, you should have the right to select another agent of your choosing. Many real estate companies will simply replace an agent with another one, without consulting you. Be sure to have control over your situation before signing a real estate contract.
Mistake #8 - Limiting the Marketing and Advertising of the Property
There are two obvious marketing tools that nearly every seller uses: open houses and classified ads. Unfortunately, these two tools are rather ineffective. Less than 1% of homes are sold at open houses, and less than 3% are sold because of classified ads. In fact, realtors often use open houses to attract future prospects and to satisfy your nosey neighbor's curiosity.
Your realtor should employ a wide variety of marketing techniques. Your realtor should also be committed to selling your property; he or she should be available for every phone call from a prospective buyer. Most calls are received, and open houses are scheduled, during business hours, so make sure that your realtor is working on selling your home during these hours. Chances are that you have a job, too, so you may not be able to get in touch will many potential buyers.
Mistake #9 - Choosing the Wrong Realtor®
Selling your home could be the most important financial transaction in your lifetime. As a result, it is extremely important that you select the realtor that is best for you. Experienced real estate agents often cost as much as brand new agents. Chances are that the experienced agent will be able to bring you a higher price in less time and with fewer hassles.
Make sure you are comfortable with the Realtor you choose. More than likely your buyer will be too!

Importance of a Pre-Listing Appraisal
You're probably wondering why I would offer to pay half of your home appraisal and the answer is simple.

Most sellers price their home for more than it's worth. If you Google "reasons why your home doesn't sell" in almost every case the #1 reason is "your home is priced to high".

A bank will not lend money above the appraised value of the home. You need a "Fair Market Appraisal".

It's as simple as that.

I'm so convinced of the importance of a pre-appraisal that I will pay half of the appraisal fee at closing and you select the appraiser of your choice. I will rebate 20% (30% for military veterans) of my personal commission back to you at closing that amount should more than pay for your appraisal, so it's like getting the appraisal for free. Personally, I don't know of another real estate agent that pays half of an appraisal and will rebate a portion of their commission back to a seller or buyer.
How Will a Pre-Listing Appraisal Help Me?
"What is the importance of a pre-listing appraisal?"

A pre-listing real estate appraisal will provide you with an unbiased opinion of your property's value and
what a buyer might expect to pay for your property.
A pre-listing real estate appraisal will help you decide on the list price for your property. The list price is very important. Listing your property for the correct price the first time will maximize your profit and minimize the time the property is on the market. If you list too high, you could risk the chance of remaining on the market too long. Most properties are shown during their first 30 days on the market, when the listing is still new and exciting. Additionally, if the property is listed too high, there is risk of the buyer's appraisal coming in at less than the list price. If this happens, the buyer may not get their loan and the sale is at risk, putting your property back on the market. Having a pre-listing appraisal provides foresight into where the buyer's appraisal might come in. It eliminates the opportunity at being blindsided by information later when you thought everything was going effortlessly. The pre-listing appraisal ultimately saves you both time and money.
Making the decision to get a pre-listing appraisal can protect you from unexpected situations such as these. The pre-listing appraisal sets the stage for you to evaluate your expectations and possibly even adjust the pricing strategy for the property.
Another great reason to get a pre-listing appraisal is it empowers you, the property owner, with the knowledge about what to update in order to increase your property value. You may want to know if you should paint the entire house or install a new bathroom. Although every update a homeowner makes to their property can affect value, not all updates will have an equal effect. Should you choose to address those items, you can request to have your appraisal updated to reflect the updated value. Doing this will not only help give you a greater profit margin, but will also potentially eliminate any last minute, time consuming requests for repairs that might delay a closing.
Once your house is listed and begins to show leave several copies of the appraisal out for prospective buyers so they can learn about the actual value of the property. This is not only impressive and helps the potential buyer remember your property, but it also empowers them with this knowledge thereby giving them peace of mind when considering your home for purchase. It will also help prevent "low ball" offers because they can see printed data about how your property is worth.
Appraisal Agreement

450 Ideas...To Help Your Home Sell Faster


Please email me at info@tomsellschicagohomes.com for the free 450 Ideas eBook

Please feel free to contact me with any questions you may have. I am here to help!
Tom Greenan - Licensed Illinois Real Estate Broker Associate
Text/Call: (773) 733-3683